Maewan Adventure Base #1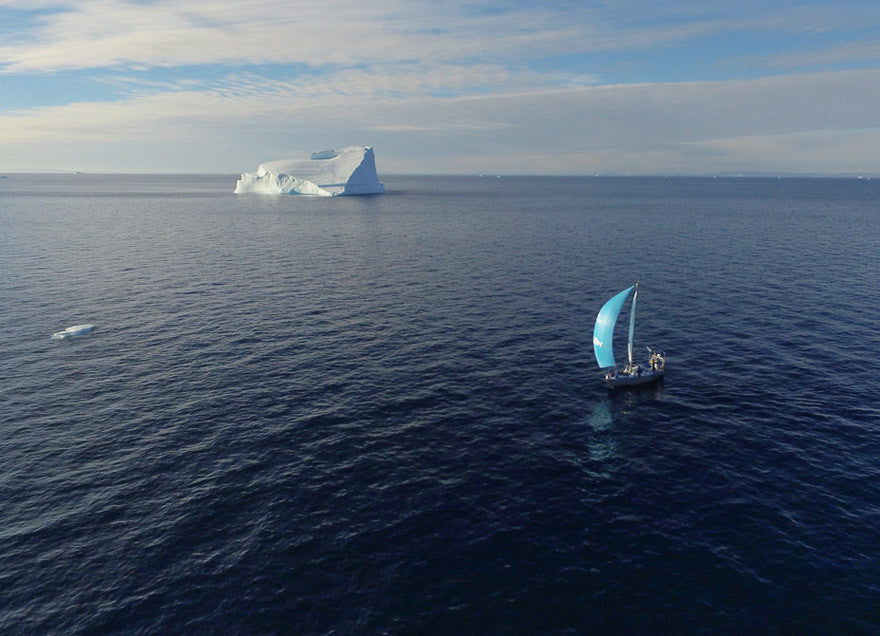 Maewan is an 11m sailing boat – the adventure base for its captain Erwan Le Lann and other adventurers for a period of 4 years.
Erwan is a mountain guide, alpinist, rock- and ice climber, base jumper, explorer and sailor with an experience of over 20 years. He ran through a bunch of passports, has seen more places than anyone would dream of and took apart in many adventures. His everyday job is being responsible for International Promotion at Petzl. He's the one who's behind the famous climbing festival - the Petzl RocTrip.
©Eric Loizeau
Amongst his best achievements are:
Super Canaleta, Fitz Roy, Patagonia, 2nd winter ascent, 2001

350 base jumps all over the world

Ice climbing in Canada, Sweden, Iceland, China, Norway, Scotland

18 expeditions between 2000-2004 in Himalaya, Patagonia, Antarctica

1st ice climbing ascent of Oule Waterfall, 300m, Alps, 2013 (the only ascent to date)
Erwan put together all of his passions in the Maewan Adventure Base project. The idea started years ago with Erwan's desire to combine the mountain and the sea. The goal is using the Maewan boat for reaching inaccessible places in order to discover, climb and ski unexplored places of the planet. The expedition is planned in 4 parts and over the course of this adventure many top athletes will join Erwan, amongst them some lyoteam ambassadors. Exploring, climbing, mountaineering, skiing, free diving and kite surfing will take off from the Maewan boat.
Erwan's philosophy regarding this project had started during a sail trip to Antarctica. Sailing in that part of the world gave him opportunity to see the nature and the environment changing from a very rich fauna and flora to water then to icebergs and solid land again. This way of traveling let him experience all the changes being made by nature. For Erwan taking a plane from point A to B didn't really mean traveling so taking a boat as an only one mean of transport was an obvious decision. 
©Maewan
The first part of the adventure started February 2015 from Aber-Wrac'h and the first stop was Iceland where the team found some great ice climbing lines. Erwan was joined by world-class athletes Lionel Daudet, Aurelien Ducroz, Aymeric Clouet, Guillaume Vallot and Jeanne Grégoire.
©Guillaume Vallot
Next was Greenland for free-ride skiing and mountaineering with Bertrand Delapierre, Léo Slemett, Eric Loizeau, Adrien Courier. Finally there was some serious big wall climbing. Gérôme Pouvreau, Mathieu Maynadier, Florence Pinet and Charlotte Barré opened some great routes!
In August 2015 the Maewan boat was left to hibernate for 6 months in Sisimiut, Greenland, which gave Erwan enough time to prepare the second part of the adventure. The captain regained his boat in April 2016 and after one month of fixing and cleaning Maewan was ready to embark on its next adventure together with Liv Sansoz, Christophe Stramba-Badiali, Eric Chatrian and Jeanne Grégoire. Maewan made a pit stop in Baffin Island to pick up Sean Villanueva and Nico Favresse, who were part of a different expedition and had been big-wall climbing there for more than two months.
©Mathieu Maynadier
Currently Maewan is sailing through the Northwest Passage and the new crew member is Fabienne d'Ortoli - kitesurf world champion.
As you can imagine, preparing a trip for six months on the boat is not a easy task. Not to speak from all the technical and logistical stuff, food enough was a big matter. Erwan received special big pouches of LYOFOOD meals and a bunch of freeze-dried herbs, vegetables and fruits to ensure the Maewan crew gets all the vitamins during the trip.
©Maewan
Next on the list are Alaska, Philippines, Malaysia, Antarctica, Georgia…but more about that in another episode.
Besides LYOFOOD, Erwan is supported in this adventure by Mobility, Improve your Way, Haglöfs, Loubsol, Petzl, Dokever, Ultra sport science, Teem, Peli, Great Circle.
Stay tuned for more episodes with stories from inside the Maewan Adventure Base!
You can read more about this adventure on the Maewan Adventure Base website.
©Maewan
Comments will be approved before showing up.