AMAZING FRUITS #4 BLUEBERRY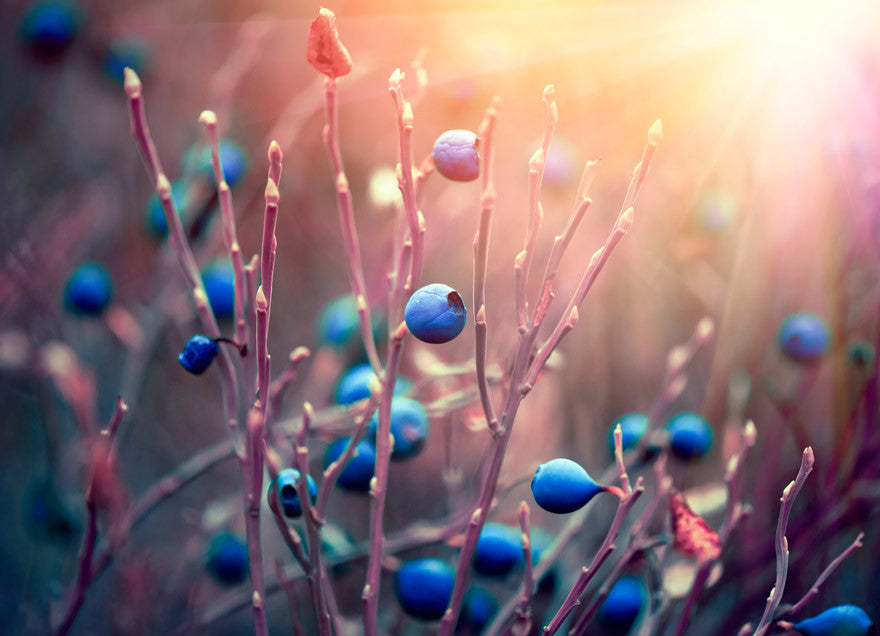 BLUEBERRIES, SOMETIMES REFERRED TO AS "FOREST TREASURES", ARE WHAT OUR FOREFATHERS USED TO CURE DIGESTIVE DISEASES. THEY PROTECT YOUR HEART AND HELP YOU KEEP GOOD VISION, WHILE ANTHOCYANINS THEY CONTAIN SLOW DOWN CELL AGEING PROCESSES. THOSE TINY BLACK BALLS HAVE ENORMOUS POWER.
Why do you think there are so many songs about blueberries? Take the classic "Blueberry Hill", for example. After all, not all fruits and vegetables get this kind of promotion. But blueberries have become so widespread that they in danger of losing their charm. Blueberries are definitely delicious, but that's not their only advantage.
NATURAL REMEDY
Blueberries have long been known and used for digestive ailments and diarrhea. Their strong anti-inflammatory properties are helpful in the treatment of viral gastroenteritis. They successfully fight bacteria, staphylococci and streptococci. The LYO POWDERS blueberry powder is an excellent product, safe even for babies, which can successfully cure diarrhea. Just one teaspoon of the powder dissolved in a small amount of water and your medicinal drink is ready.
KEEP YOUR VISION CLEAR
Eyesight deteriorates with age, so it's good to know there are natural products which can delay the ageing processes. Anthocyanins, responsible for the dark colour of blueberries, are beneficial for our health and serve a protective function. Lutein is a powerful antioxidant, essential for the body, and it has to be supplied with food. It is a sensitive substance that loses its properties in the cooking process. Lutein protects the eye like a natural sunscreen. Zeaxanthin is present in the retina of the eye. Blueberries have a high content of all these substances. They have a beneficial effect on our eyes, improving night vision. Those spending a lot of time in front of the computer, professional drivers and pilots should make sure blueberries are always there in their diet. This also applies to people with a genetic risk of cataract or glaucoma.
AFFAIRS OF THE HEART
Blueberries contain substances that seal blood vessels and dilate coronary arteries. In this way, they reduce the risk of myocardial infarction in people with atherosclerosis and all those with elevated cholesterol levels. The beneficial effect of blueberries on the cardiovascular system cannot be overestimated. Huge amounts of phenolic compounds, calcium, magnesium, potassium, sulphur, iron and vitamins C and B6 offer a perfect mix, straight from nature.
YOUTH AND BEAUTY
Antioxidants found in blueberries effectively slow down ageing processes, while accelerating the regeneration of body cells. They make your skin supple and firm, significantly improving its moisture level. The function of sebaceous glands is regulated, making the skin look healthy, youthful and radiant.
SUMMER SEALED IN A POUCH
Blueberries are seasonal, while they should be eaten all year round, every day. LYO POWDERS organic blueberry powder is 100% fruit, full of beneficial nutrients, with concentrated flavour and aroma. Enrich your diet by adding LYO POWDERS to your porridge, smoothie, yogurt, tea, cake or even icecream. One teaspoon of powder contains as much as 35 g of fresh blueberries. 100 g of the powder contains 547 mg of potassium and 19 mg of vitamin C. Lyophilization of fruit from organic farming guarantees safety and ensures a wealth of vitamins and minerals
The well-known and popular blueberries, the treasures of the forest we so much love to pick. The purple tongues, the taste of blueberry-stuffed dumplings and blueberries with cream - the wonderful flavours of the summer. LYO POWDERS blueberries will bring back those flavours and memories every day. Enjoy 😊
All images and text: © LYOFOOD press materials
Comments will be approved before showing up.