End of Aleksander Doba's third transatlantic kayak expedition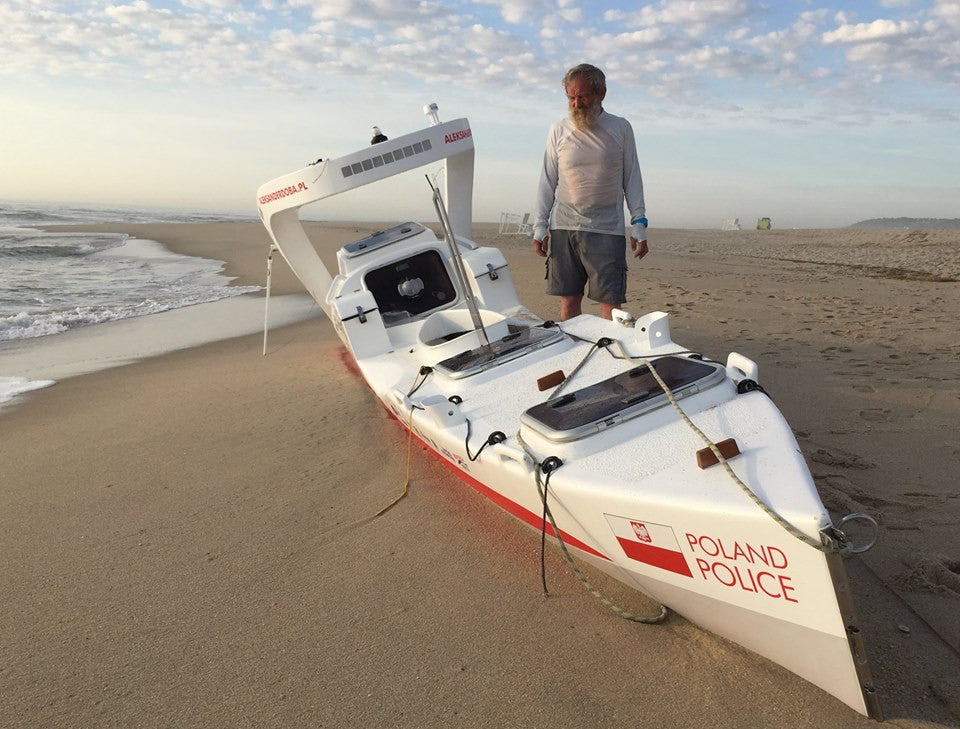 Polish long distance kayaker Aleksander Doba was planning to set off to attempt an Atlantic Ocean crossing alone at the age of 69 years. This would have been Doba's third transatlantic crossing. This time he would paddle from west to east, from New York to Lisbon where he would celebrate his 70th birthday after having spent three months alone in the Atlantic waters.
For his last Atlantic Crossing from Portugal to Florida in 2013, Aleksander Doba was awarded with the National Geographic Adventurer of the Year title.
The journey started out with emotions, when 400 LYOFOOD products – Doba's food for three months – were stopped at the US customs. After two weeks of e-mails, endless phone calls to the USA, discussions with the Polish Embassy in the USA, the products were delivered to Doba.
After many hours of waiting for weather to improve, so he could start his voyage, Olek set off in the late evening on Tuesday 31st of May from his abutment in Lower Bay. He passed Sandy Hook peninsula and finally found himself in the Atlantic waters. Unfortunately, he did not have time to kayak far away from the land to avoid the dangers that are caused in this area by strong winds.
"At 1 a.m. I saw a big wave on the left. It was not very big-about one meter high- but it was growing dynamically. After a while, it hit the kayak and overturned it. After the first wave, the second came and overturned the kayak again. During the first wave I fell out overboard, during the second one I was totally bruised under the kayak"- says Aleksander Doba.
Due to the strong waves that damaged the kayak, he had no other choice but to head back to shore.
Aleksander Doba was forced to end his attempt on the 2nd of June 2016, just 2 days after his start.
Photo: Piotr Chmielinski
"This is the end of the expedition - Olek told me on the phone, saying like it wouldn't be his voice, subdued and soundless - Please come and take me from the beach next to Sandy Hook park - Few hours later, my son Alex and I arrived to the place of the accident, where my friends from New York, Luis Muga with his wife Dorota were waiting for us. When we came, we saw Olek bailing the water out of his kayak. He was so concentrated that he seemed to be absent. At the same time, he was subdued, shrunken and obviously bruised, despite this, he didn't even mention it. The most important fact is that he is safe and sound."
With the help of an accidently met group of students, police officer Richard and John Wylie and his boom lift, the team embarked "OLO" on the trailer and were able to go back to Washington.
Photo: Alex Chmielinski
Photo: Alex Chmielinski
Olek recovered during his way back from New York and hoped that maybe he would be able to come back on the ocean after drying what got wet when the kayak was flipped over.  But the damage to the kayak was too big and it soon became clear, that it would take too much time to fix it and he would miss the window to restart. However, it doesn't mean that Olek resigns from his plans. He is going to kayak across the Atlantic for the third time next year and celebrate his 71st birthday in Lisbon.
Comments will be approved before showing up.